(was -Clark & / now just) Ravenscroft
Listing from old premises, Still the same people running it - its just moved across the road - -
Norwich was the obvious choice for food lovers Clark and Ravenscroft to open their deli. They saw an opportunity in Norwich to provide good quality food to a city populated by such people who would appreciate it.
In terms of location, Norwich is perfectly situated to provide an abundance of local produce so sourcing new products for their customers to enjoy is made easier by the ingredients they have on their doorstep.
However, as lovers of food from all over the world, they do not believe in limiting the deli's range from just one region. Clark and Ravenscoft have a huge range of food from all over the world. "If it is the best, we believe it deserves a place on our shelves." Their main motivation when sourcing new items for the deli is good quality and something that is unique but they always make sure that the core deli items are available at affordable prices.
Mon - Fri 9am to 5.30pm - Sat 9am to 5.00pm (Deli & Cafe)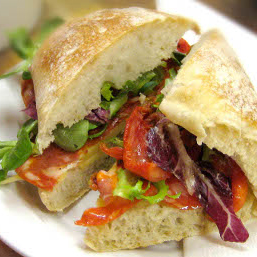 Contact (was -Clark & / now just) Ravenscroft