The Feed
Here at The Feed we're passionate about food and passionate about people. Our aim is to deliver exciting and colourful dishes that feed the soul as the stomach.
All our food where possible is made using the best quality local produce from the beautiful fields of Norfolk.
As our customer you will be provided with a dedicated service and delicious food.
We';re also a social enterprise using food as a catalyst to inspire and motivate people to achieve and live a more fulfilling life.
All our profits go to fund supporting hundreds of adults to transform their lives.
We believe that people can grow and thrive given the chance and business and people can do extraordinary things.
We support them towards employment by providing training and work experience.
*** The Street food section is all about promoting the many great food vans, venders & pop up caterers around East Anglia. You can book some for private functions others you'll find at Norwich's Feast on the Street, the Food Festival, the Chocolate Festival and other fabulous events around & about - - -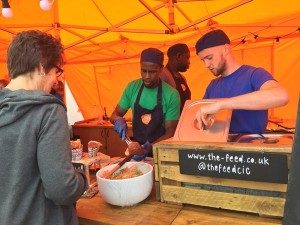 Contact The Feed