The Horse Box
We are just a young couple, having tremendous fun. Making magical tasty things happen from inside our little horse box kitchen.
The trailer provides us with opportunities to go out and have an adventure every day, new exciting shows, meeting new people, road testing new food ideas. Popping up at events and food scenes across the county and beyond.
In The Horse Box, our speciality focus is handcrafted, organic flatbread tacos. We just love making these beautiful tacos that have a satisfyingly good texture thanks to our special recipe, using organic yoghurt. They provide the perfect set up for whatever our seasonal menu is offering. We like to create dishes using as much local and in season produce as possible, supporting our local farmers and businesses is very important to us and besides that, Norfolk offers such an excellent array of quality ingredients, it's a no brainer!
 *** The Street food section is all about promoting the many great food vans, venders & pop up caterers around East Anglia. You can book some for private functions others you'll find at Norwich's Feast on the Street, the Food Festival, the Chocolate Festival and other fabulous events around & about - - -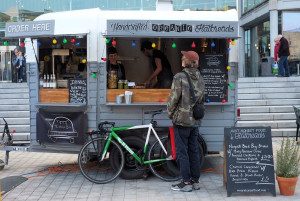 Contact The Horse Box