Norfolk Day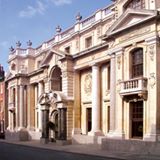 Join in our celebrations for the first ever Norfolk Day this summer.
Norfolk Day is on Friday 27 July and celebrates all that is great about our county.  We've got plenty of activities planned.
Tons of Foodie events all over Norfolk – -see local press, along with social media @foodnorwich / / plus see below – – adding all the time
Museums
Norfolk Museums have lots of themed events and activities.
Norwich Castle will have family activities inspired by the current exhibition, The Paston Treasure
Free entry to Strangers' Hall and The Museum of Norwich on the day
Join Gressenhall Farm and Workhouse for A Walk in the Woods
Follow a special trail at Ancient House Museum
Family friendly activities at Lynn Museum, and Great Yarmouth museums
Libraries
Norfolk libraries are hosting special events for Norfolk Day all across the county, for both children and adults, including:
Norwich Time Travellers – share memories of Norfolk and discover more about our local history collection over a cup of tea
The Story on My Street – imaginitive storytelling for ages 7-11
Just a Cuppa – A Norfolk mardle – drop in for a chat about Norfolk in the past over a cuppa
The Norfolk Poppy project – poppy making for children.  Part of the Norfolk in World War One Project.
StoryWalks: Get outside on Norfolk Day – story times and outdoor treasure hunts for ages 3-7
Norfolk Record Office
If you're interested in historic documents and unusual maps, then come along to the Norfolk Record Office. We'll be running two sessions, both two hours long. Places are free but must be booked in advance. For more details, contact Norfolk Record Office.
A Good Hare Day free activities and workshops
Come along to our free 'A Good Hare Day' activities, run by Norfolk Community Learning Services. No need to book, just come along and join in the fun! Suitable for adults and families. Children must be accompanied by an adult.
EVENTS – –
Lakenham Creamery – On the 27th July, at the Lakenham Creamery (Ice cream factory) there shall be a Norfolk Day in aid of EACH. You can expect face painting, free ice cream tasting, a dad's outrageous shirt competition, opportunities for photos with a Harley Davidson and much more!
Seasons Bounty – Pop up – So excited! My week on Norwich Market is really happening! #NorfolkDay jam is also here.
Waterloo Park – The community gathering is happening at Waterloo Park off Angel Road, Norwich, on Norfolk Day – Friday, July 27 – from noon-5pm. A fun dog show, organised by the Walsham Obedience Club, along with other fete activities and stalls, will be taking place on Saturday, July 28, from 10am-noon and 2-4pm. The fete is the idea of Park Britannia café, part of Britainnia Enterprises, which is based on the park and the newly-formed Friends of Waterloo Park.
Davina Tanner, chief executive of Britannia Enterprises, said: "We loved the idea of Norfolk Day as soon as we heard it and really wanted to get behind it. There is so much to celebrate about our wonderful county. "Having seen the wonderful but previously often overlooked Waterloo Park in Norwich come back to life, after we opened Park Britannia in the pavilion building there last year, we wanted to do something that all the local community could enjoy. "A big community fete with something for everyone seemed to be the perfect way to celebrate Norfolk Day and our local community." All the activities will take place at Waterloo Park around Park Britannia, which is in the pavilion. On Norfolk Day itself these will include swing boats, mini waltzers, hook-a-duck, circus skills, giant games, hoopla, a nature trail and craft stalls. There will also be live music on the park bandstand from musicians including Yve Mary Barwood, the Dove and Boweevil band and the Dave Thomas band. Admission to the event is free but there may be a small charge for some activities. There is an entry fee of £1 per dog per class entered for the July 28 dog show. Visit www.cafebritannia.co.uk/norfolk-day-fete / / Article from EDP
Taylor's Attlebough – @norfolk NorfolkDay 27th July The London Tavern from 11am *Free Entry *Free Teddy Bears Picnic – ticket only collect from Monday 23rd *Face Painting with Happy Ever After *Reike/Refelology with Rhia *Craft Stalls *Green Cottage Vegetables *Norfolk Beers & Gins *& More
Kings Lynn – The 21st King's Lynn Beer Festival, organised by the Vancouver Round Table group and Stuart House Hotel, featuring Norfolk beers, raising money for Norfolk Accident and Rescue Service, Stuart House Hotel, Goodwins Road, King's Lynn, July 26 (5-11pm), July 27 (noon-11pm), July 28 (noon-11pm), call 01553 772169.
Woodford Brewery –  – We'll be celebrating all things Norfolk at the brewery from 1pm on 27th with an outdoor BBQ, music in the garden, free brewery tours and children's entertainment. Come and join us! #NorfolkDay
Virgin Money – Cake sale at Virgin Money Lounge, Castle Street, Norwich, in conjunction with TimeNorfolk pregnancy loss charity, 10am-1pm.
Chapelfield – Condiment fans can buy a jar of the new Norwich Mustard, created after a Crowdfunding campaign after Colaman's Mustard announced it was leaving Norwich, stall is at House of Fraser, intu Chapelfield, Norwich, July 27,28 and 29.
Mattishall – Picnic and children's talent show on Mattishall village green where people are encouraged to dress in black and yellow, noon-3pm, clerk@mattishallpc.info
Banningham – Farming, history and food event at St Botolph's Church, Banningham, food taster sessions from 11am-noon and 2-3pm, bowls demonstrations on Banningham village green and coffees and cream teas being served up for charity at the Banningham Crown, www.dioceseofnorwich.org/news/events/
The Feed market stall on Norwich Market (Row A, stall 24/5) is offering a free sharing bag of Kettle Chips to the first 100 people on Norfolk Day. Everyone who visits the stall on Norfolk Day can be entered into a draw to win a visit to Kettle Foods.
Roys of Wroxham will be showcasing its local food and drink suppliers as well as giving out samples of the goods. During the weekend of July 28/29 the store will have promotions on Norfolk produce. During the run up to Norfolk Day there will be a giveaway to win a hamper full of Norfolk items on the Roys of Wroxham Facebook page.
Pop-up Porkstork stall, House of Fraser at intu Chapelfield, Norwich, 9am-7pm, more than 20 Norfolk food and drink producers selling their products.