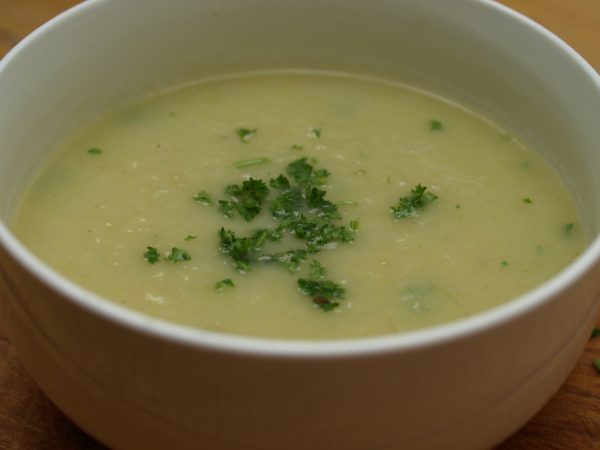 Prep Time

10 - 15

minutes
Cook Time

30 - 40

minutes
Prep Time

10 - 15

minutes

Cook Time

30 - 40

minutes
Heat the oil or oil and butter in a large saucepan.

Gently cook the onion and celery, till soft but without colour approx 1 – 2 minutes.

Add the garlic and leeks, cooking for 3 – 4 minutes.

Add the potatoes and pour on the stock or milk.

Cover with a lid, only if you have one that fits, simmer for 20 minutes or until the potatoes are tender.

Liquidize / blend till smooth –ish.

Season to taste, sprinkle in the herbs and serve.

If you like your soup thinner add a little water, stock, cream or milk.
Tip – Make this soup your own by replacing the leek with any vegetable you like – try broccoli, spring greens, cauliflower, carrots or courgettes. You can also enrich soup with cheese try replacing the leeks with broccoli and then melting in 60 g of stilton at the end making Broccoli and Stilton soup or finish of with a heaped teaspoon of cream fraiche each.