Celery, so misunderstood - The poor thing! Lets better it up. Why is celery so like marmite? Some children spit it out, some adults push it to the sides of their plates and some people wince at the mere thought of it. Yet, the flavours divine most people probably consume it everyday and don't even realise it. It's the perfect base to a good sauce, stock or stew, even bolognaise is improved by its presence. Celery contains very little calories yet is packed with goodness. Did you know celery contains androsterone a pheromone released by men that's said to attract females, did the Egyptian King Tut know this when he was buried with a garland of wild celery? And yet it takes only an ounce of celery seeds to grow an acre of the stuff making it very reasonably priced.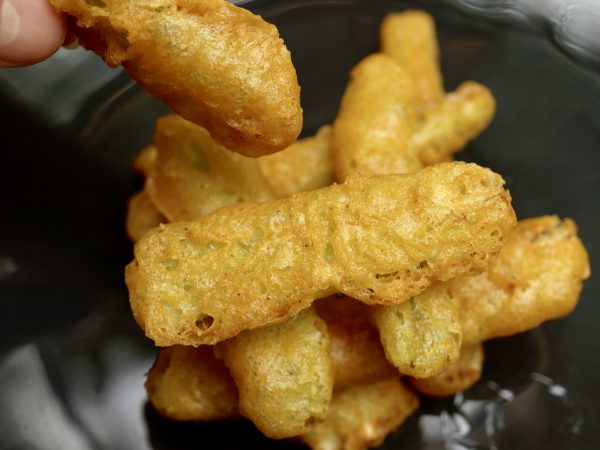 Cook Time

10 - 12

minutes
Cook Time

10 - 12

minutes
Toss the celery sticks on salt and leave for 15 – 20 minutes to soften, rinse well before using.

For the batter whisk the dry ingredients together in a large bowl and then whisk in the lime juice, water and enough of the coconut milk to mix in to a smooth thick batter.

Heat enough oil to deep fry or preferably (for safety) a deep fat fryer to 180*

Dip the celery in the batter and gently drop in to the oil cooking until golden and crispy on both sides.