Recently I took a foodie trip to Tel-Aviv and fell in love with the Israeli Humus. They eat it at breakfast, lunch, dinner and all those snaky times in-between. They don't just say 'lets go out for humus' they say 'lets go out and scoop'. It's so fluffy and smooth it makes the perfect dip, you gotta scoop though, breaking the pitta apart and dragging a mass amount on to the bread – it's the only way. Israeli humus has more Tahini and less lemon than its Persian sister.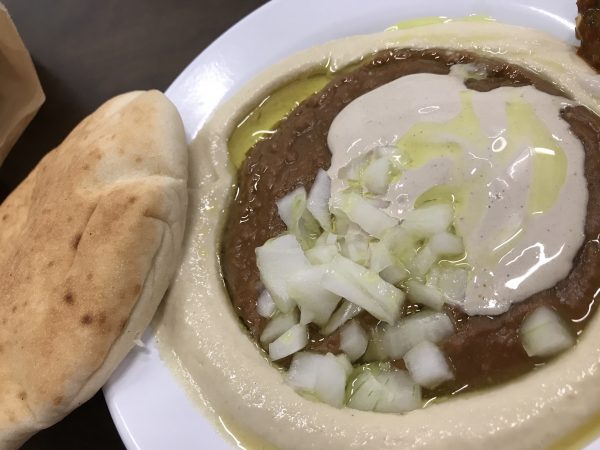 Passive Time

20-30

minutes
Passive Time

20-30

minutes
Soak the chickpeas overnight in cold water. (leave them somewhere cool, they don't need to be refrigerated or seasoned – salt will make them hard)

Rinse off and place in a large saucepan, cover with water a few inches above the chickpeas.

Bring to the boil, then simmer for 45 minutes to an hour, until the chickpeas are really, overly tender. Make sure while simmering the chickpeas have enough water.

Strain - - Keeping a good cup full of cooking liquid.

While hot - - process in a processor (you may need to do several batches).

Add the clove of garlic to the chickpeas.

Process for at least 3 minutes to ensure the mix is pureed to smooth perfection.

Add the tahini and lemon juice – process to incorporate.

Add enough of the reserved liquid to form the consistency your happy with – Israeli humus should be loose, slightly runny, dip-able and smooth.
Best served fresh and warm with a sprinkle of ground cumin, paprika and a good drizzle of virgin olive oil. Serve with soft bread to scoop and dip. This humus will set a lot firmer in the fridge – if serving cold, give it a fork through before serving or for authenticity – pound in a pestal and morter, just before service to make it even more fluffy. Yes, its gotta be dried chickpeas, the tinned one's won't do for this authentic recipe as they need to be cooked to soft perfection but still hold together and processed hot – plus the taste is far superior. Tip - The balance between lemon and tahini is up to you - - taste as you go along, only adding 2/3 the amount on any recipe then adding more to your taste, sometimes more than the recipe, my batch could easily take another lemon juiced or 1 – 2 tablespoons tahini – your balance or mine above.   Image  - The Humus I had at 'House of Hummus', Camel Market, Tel Aviv - Served with Fav beans, tahini, olive oil and raw chopped onions.