Christmas pudding needs time to mature and October is the perfect time to make it. It's a really simple process and not daunting at all – it's as simple as weighing, mixing and steaming. The result is a magnificent beast of a pudding oozing with rich plump fruit, deep in colour and as moist as the richest pudding you could ever imagine. I've been making my own Christmas pud for over 15 years first for my customers then for my family and this recipe has stuck with me for the last 6 years of teaching and probably for the next 50. It uses stout and even though I wouldn't entertain a glass of stout it adds a real depth to the pudding worth its weight in gastronomic tinsel!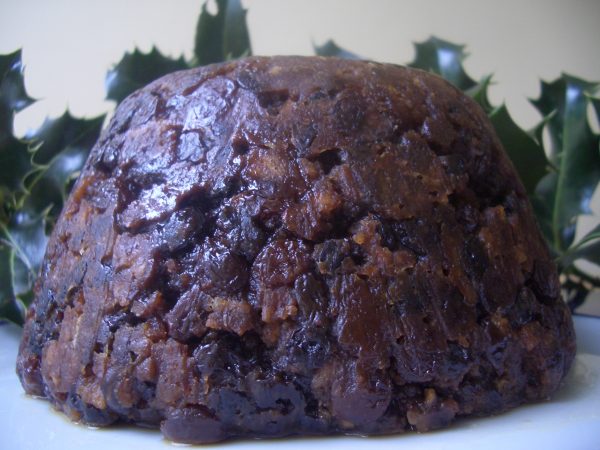 | | |
| --- | --- |
| | |
Mix all the ingredients together by wooden spoon or clean hands in a large bowl. (For best results refrigerated over night to allow the flavours to develop)  

Spoon in to a lined 1-kilo pudding bowl.

Make sure the pudding is covered with a lid or tin foil and steam for 2 hours. (Keeping the water topped up)

Cool in the pudding bowl.

Rewrap in a piece of greaseproof paper and cloth or cling film.

Store in a cool cupboard until Christmas Day and just as you're serving the Turkey simply microwave for several minutes or steam until warm.
Top Tips -
For a bigger pudding or a spare one for Boxing Day just multiply the recipe, you can't go wrong. These are also good made in individual ramekins or pudding coupes, wrap with a piece of material and ribbon, label and give away as presents or use as a fund raiser.
For a Vegan version use vegetarian suet, replace the eggs with either a vegan substitute or 1-teaspoon baking powder and 1 teaspoon bicarbonate of soda.
For gluten free version use gluten free or rice flour.
Christmas pudding isn't just for Christmas it's lovely any time of the year with cream or ice-cream or you can make IT in to an ice-cream or fill filo parcels and make Christmas Pudding Spring rolls.
Half the mix for a small pudding - serving 3 - 4 steam for 1.5 hours.