Boozie ole Christmas cake full of seasonal cheer. Although better made earlier so the alcohol can seep in and mature, its still not to late to make this one. My husband has his with a slice of cheese, a Northern tradition but I like mine just as it is with a nice cup of tea on Christmas eve when the children have gone to bed and Santas mince pie is waiting on the mantle.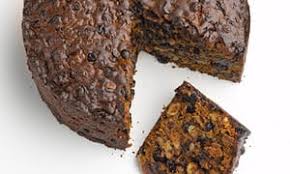 | | |
| --- | --- |
| | |
Soak all the fruit and peel in the alcohol for a couple of hours or overnight.

Preheat the oven gas 4 / 180*c.

Cream the sugar and butter together until light, pale and aerated.

Beat in the eggs a little at a time until well incorporated.

Gently fold in the flour and almonds along with the spice, be careful not to over work the flour.

Followed by the zest and apple.

Spoon in to a well greased spring bottomed 20 – 22 cm tin.

Bake on the middle shelf for 1 hour then turn the oven down to gas 2 / 150*c and cook for a further 1 & 1/2 – 2 hours or until cooked.

While still hot and in the tin pour over some alcohol and allow to seep in while cooling.

After a few hours remove from the tin and cover well in greaseproof paper and tin foil, place in a tin if you have one and store somewhere cool and dark.

Every week or so seep in a little more alcohol and cover well until Christmas.
Tip - This can be made as late as late November but preferably make in early October increase to half a bottle and seep every 3 weeks or so.
To marzipan –
Brush the outside with hot apricot jam.
Cover with a layer or rolled or ready rolled marzipan.
Followed by a layer of rolled or ready rolled icing.