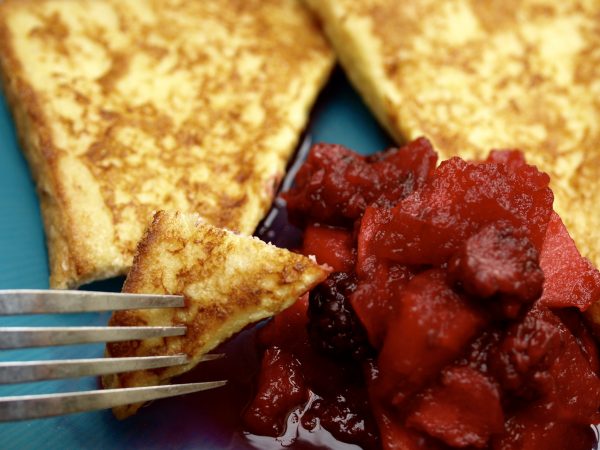 | | |
| --- | --- |
| | |
Simply beat the egg and whisk in the seasoning and milk.

Dip the bread in to the eggy mix allowing the bread to soak up plenty of mix.

Meanwhile heat up the butter and oil and fry each slice until golden on both sides. To hot a heat and it will burn to low and it will stew -

For the sweet un-seasoned variety sprinkle on some icing sugar and serve with a fruit compote.
Apple and Blackberry Compote ( 3 – 4 )
3 eating apples – cored, peeled and sliced
12 blackberry's – fresh or frozen
1 tablespoons sugar
1 tablespoon lemon juice
3 tablespoons water
pinch cinnamon
Simply add all the ingredients to a sauce pan and simmer gently for 5 – 6 minutes until the apples have softened, stirring occasionally and turning the heat up for the last minute until the sauce has thickened slightly.