I am seeing venison more and more on the shelves, Norwich market nearly always stocks it and farm shops often have a stock in their freezers. It's a similar price to beef and cheaper cuts offer tender, quality and rich tasty dishes making it perfect for old fashioned pies and casseroles.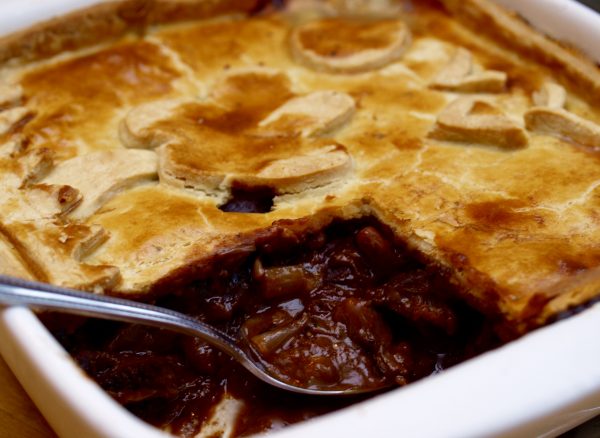 Prep Time

40 - 50

minutes
Prep Time

40 - 50

minutes
Of course you could always buy ready made short crust or puff pastry.

Sift the flour in to a big bowl and add the salt.

Rub the butter in to the flour until the mix resembles fine breadcrumbs.

Add the herbs – optional.

Mix in enough water to form a soft, pliable dough.

Cover in cling film and rest in the fridge for 20 minutes.
Heat the oil in a large frying pan, toss the venison in the flour shaking off any excess and cook until brown in the hot oil, stirring to stop from sticking.

In the same pan heat the next lot of oil and fry of the onions cooking slowly until lightly browned.

Add the celery, garlic and mushrooms and cook for a few minutes to soften.

Add the venison back in and cover with the port, redcurrant jelly and stock.

Bring to the boil, turn down the heat to a simmer, cover with a lid and cook for 1 & 1/2 hours until the meat is tender stirring occasionally. Alternatively transfer in to a casserole pot and cook in the oven.

Season to taste and stir in the puree to thicken.

Spoon in to a 6-portioned pie dish allow to cool slightly before adding the pastry.
Pre-heat the oven gas 6 / 210*c.

Roll out the pastry and cover the pie, brushing with egg wash or milk.

Make a hole in the middle to allow excess steam out.

Bake on the middle shelf for 25 - 30 minutes or until golden.
Tip – If cooking from cold make sure the stew has cooled before adding the pastry and allow an extra 20 - 25 minutes on a slightly lower setting.