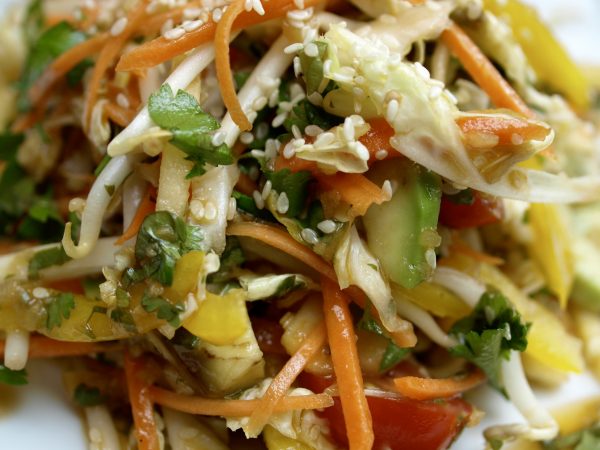 Salad Ingredients - 2 large carrots – peeled and stripped 1/3Chinese cabbage - shredded 1 apple – peeled, cored and stripped 1 yellow peppers – finely stripped 1 ripe avocado – peeled, stoned, quartered and sliced 9 x cherry tomatoes – halved Handful beanshoots Handful watercress  - torn in to small pieces Handful rocket leaves (optional) - Simply toss all the ingredients together along with the dressing from below. - Note – stripped = cut in to matchsticks / thin strips or simply grate or you could use a mandolin (watch your fingers!)

Dressing - 1 x shallot – very finely diced or grated 1 cm fresh ginger – grated 1/2 clove garlic – crushed 1 tablespoon coriander leaf - chopped 1 heaped teaspoon tomato puree 2 tablespoons rapeseed oil (or sunflower) 1/2 teaspoon sesame oil 1 tablespoon rice wine vinegar (or try white wine) 1 tablespoon light soya sauce (or Tamari for Vegans) 1 tablespoon cold water 1/2 lime juice - Add all the ingredients to a clean jar and shake until well mixed, this dressing will last in the fridge for several days.

Topping – Choose one or all - 2 teaspoons sesame seeds – toasted or plain 1 tablespoon coriander leaf – chopped 1 tablespoon roasted peanuts or cashews - crushed - Top your salad with a sprinkling of the above.
What's what in this salad –
Carrots - full of carotene an antioxidant.
Cabbage – A good source of calcium.
Apples – will keep the doctor away full of fibre and vitamin C
Peppers – High in B vitamins.
Avocado – Contains healthy fats which can help lower cholesterol.
Tomatoes – Offer lycopene a cancer preventative.
Beanshoots – Give us A, B and C as well as being easily digested.
Watercress – Contain carotenoids which protect age related problems.