What better way to celebrate than with home-made fish and chips, a perfect treat. I'll be eating mine in newspaper. My nana used to make the best fish and chips I was round there every Tuesday after college for her special battered haddock with heaps of chips and ketchup – so British it's almost unbelievable to think they are an Italian invention. I've made this recipe for two but its easily doubled and don't forget the mushy peas.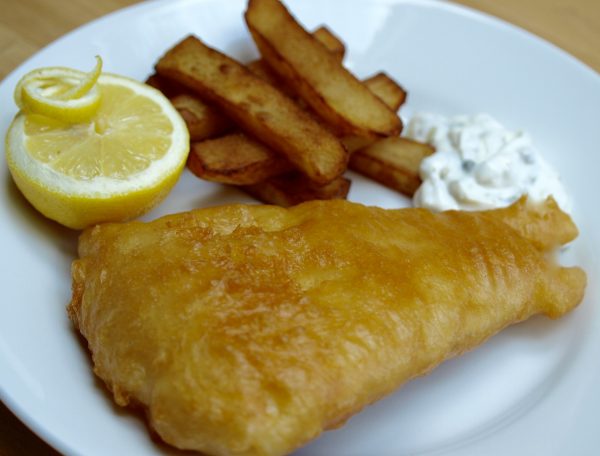 Prep Time

20 - 30

minutes
Home-made chunky chips (2)
Prep Time

20 - 30

minutes

Home-made chunky chips (2)
To make the batter whisk together the flour, baking powder, vinegar, salt and enough beer to make a batter the consistency of double cream.

Heat a deep fat fryer (with great caution*) *90% off house fires are caused by open fat fryers.

Dust the fish in flour and set aside.

Meanwhile cut the potatoes in to chips and rinse through, patting dry any excess water.

Blanch the chips approx. 160*c until soft but not coloured. (approx. 5 minutes)

Shake of excess oil, shake on to a tray and set aside.

Turn up the fryer to 180*c / setting 8 - coat the fish in the batter, shaking of any excess and gently drop in to the hot oil, cooking on both sides until golden and crispy. (approx. 3 minutes on each side)

Drain on kitchen paper and set aside until needed.

Cook the chips in the hot oil (180-190*c) until golden, drain any excess oil on to kitchen paper.

Serve with mushy peas, tartar sauce and a small sprinkling of salt and vinegar.