I know it's not to ever ones taste, we tend to think of thumper but rabbits have been enjoyed for thousands of years and play a big part Roman food history, it was the Romans who imported them to Italy and then spread the taste throughout Europe. We ate the most rabbits through world war two during meat shortages, hence the popularity to the older generation. Rabbit is low in fat and high in protein and is a good source of iron, niacin, phosphorous and of course vitamin B12.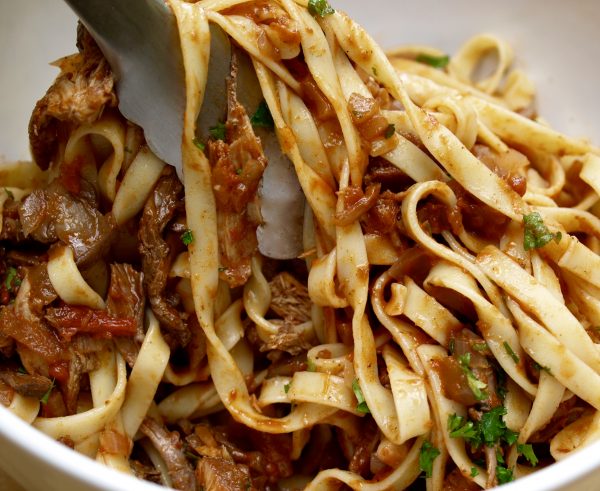 Prep Time

20 - 30

minutes
Prep Time

20 - 30

minutes
In a large saucepan heat the oil and fry off the rabbit until golden on both sides.

Add the bay leaf, herbs, garlic, carrot, celery and water and bring to the boil.

Simmer for approximately an hour or until the meat falls of the bone.

Remove the rabbit and allow to cool slightly before pulling the meat of the bones, breaking it in to small pieces.

Strain and reserve the stock.
Heat a large frying pan and cook the bacon (no oil needed) until golden.

Add the onions cooking until soft.

Add the garlic, celery and mushrooms, cooking for a further minute or two.

Add the wine, tomatoes, stock. (meanwhile cook the pasta)

Simmer for 15 minutes or so until thickened (no lid)

Add the rabbit pieces and simmer for a few minutes to warm through.

Meanwhile - cook off the pasta. (As per instructions minus 1 minute)

Toss the ragu in to the drained pasta and serve with some grated parmesan cheese and a few twists of pepper.
Variations – use the ragu with jacket potatoes, stuff in to vegetables or cannelloni, make into a lasagne or toss in to your favourite pasta or my favourite serve on a large chunk of garlic baked ciabatta bread and melt on some gooey cheese.
* Instead of bacon try pancetta or chorizo sausage.