I've been making this for yonks, well before I had children it's one of those recipes you keep coming back to because its easy to make and delicious to boot. Plus it's cheap and it works perfect every time and if that wasn't enough in a recipe it's light, moist and airy with a keep coming back for more taste. The children will love it. Cake Tins – some times people feel that they can only make the recipe if they have the precise cake tin size and shape – let me tell you, you can use anything but just remember for a thicker cake cook for longer and a thinner one say in a tray bake tin cook for less time.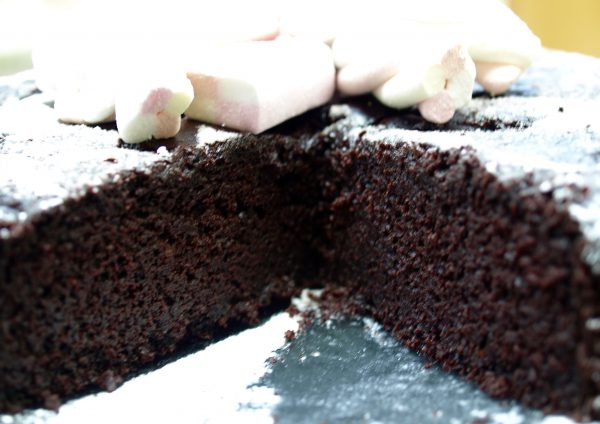 | | |
| --- | --- |
| | |
Preheat the oven gas 5 / 200* c.

Cream the butter and sugar together in a very large bowl.

Then beat all the ingredients together until just mixed and smooth. Expect the mix to be runny.

Pour in to a 20 - 22 cm deep, spring bottomed cake tin or something similar.

Bake on the middle shelf for 40 minutes and then for an extra 20 minutes on gas 4 / 180*c until cooked. (Or until cooked - all ovens work differently.)

Optional - Try some chocolate fudge icing on top.
Tip - Stick a pointed knife or skewer in to the centre of the cake if it comes out comes out clean its cooked.
Variations
Gluten free – replace the flour with 150 g gluten free flour, 100 g rice flour and 50 g ground almonds with 1 teaspoon baking powder.
Chocolate Banana Fudge Cake - - just add 2 large ripe chunky diced bananas to the mix.
Double chocolate fudge cake - - just add 75g of chocolate chips Fudgy chocolate Rum Cake - - add 100 g of dried chopped figs soaked in 60 ml dark rum.
Individual Muffins – this makes 9 - 10 big uns.