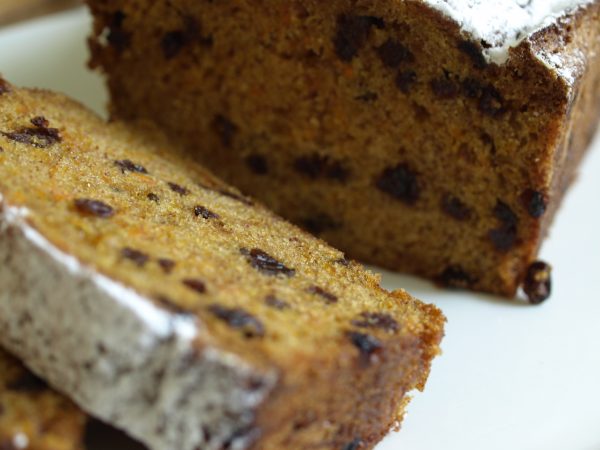 | | |
| --- | --- |
| | |
Pre -heat an oven gas 4 / 1800c.

Whisk the eggs and the sugar in a bowl until very light, creamy and pale in colour.

Gently stir in the dry ingredients (except currants) until well mixed, but still light and smooth.

Lastly stir in the currants

Spoon in to a greased 2 lb loaf tin or other suitable tin. (The cake will rise)

Bake on the middle shelf for 50 – 60 minutes or until a skewer comes out of the centre clean.

Cool in the tin for 20 minutes before turning out.

*For a bigger cake "to share"! double the mix, use a 12 – 14 inch loose bottomed greased cake tin and cook for 10 minutes more. This will give you 12 lovely wedges. Variations – Add 60 g / 2 oz of nuts to the mix like walnuts, almonds or pistachios. Replace the currants with either sultanas or raisins. Serve plain, dusted with icing sugar or spread with a cream cheese, icing sugar and lemon frosting. Or replace the lemon juice for lime or orange juice or mango or peach puree. Or top with cream cheese, icing sugar and finely diced stem ginger with some of the syrup.
Top Tip – When opening an oven to check to see if a cake or Yorkshire pudding is ready, never whip open or slam the oven door, just shut very gently as a gust of wind will cause your baking to "sink" in the middle.
Also when using dried fruits in cakes, to stop them from sinking toss them in a little flour before mixing in to the cake batter.
Even though recipes suggest a certain sized tin, it doesn't mean you have to use it, you could use a round one, square one, loaf tin, baking tin, muffin tin or even a baked bean tin – you really can! But just remember to adjust the cooking time and oven temperature the bigger or thicker the cake the longer the cooking time.