Trdelnik – Chimney Cakes (Norwich Market)
Eastern European rotisserie cones of flaky caramelised pastry.
Found on the streets of Prague & Budapest - known as Trdelnik.
There called Chimneys because of  the smoke / steam they give off after cooking and removing from the mould.
Hot served with chocolate or cold served with ice-cream.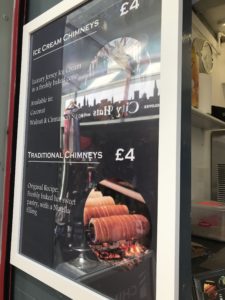 Contact Trdelnik – Chimney Cakes (Norwich Market)