Al Dente
THE AL DENTE STORY
My career in the hospitality industry begun whilst I was still studying hospitality in Italy 18 years ago. During this time I worked in a variety of different places from luxury hotels to middle range high street restaurants all over Europe. I knew I wanted to own my own restaurant, using the experience I had gathered over the years.
 When I started dreaming of owning my own restaurant it was a no-brainer to decide that it would be an Italian restaurant. However, my first dilemma came from l
ooking at the market from a consumer point of view; Are we not all fed up of the trend of many Italian restaurants? Always serving the same stale products and dishes such as Pasta Carbonara, Bolognese, Lasagne…etc.
It seems like the UK Italian food market ignores the fact that Italian gastronomy has evolved and adapted to fulfil the adventurous palate of the masses and the discovery of new.
At 'Al Dente' we offer typical Italian products and recipes that are still mainly unknown to UK market, combining them with the most popular everyday favourite pasta dishes. All the classic dishes will still be available but presented in a very playful and unique style. We can't wait for you to try it.
OPENING TIMES
Monday – Saturday – 8am
till 9pm.
Sunday – 10am
Last order 4pm.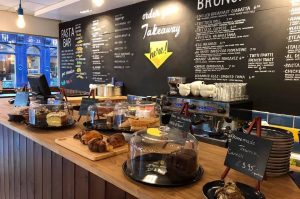 Contact Al Dente