Tabbouleh Tal
Middle Eastern Spice Blends -
Delivering delicious, authentic middle eastern favours. Zhug - tantalising Yemeni spicy blend. Homemade authentic Hummus, Spicy Pickle selection, delicious accompany to any meal. Halves - old favourite middle eastern sesame sweet confection.
(Sorry - I have no other info on this company - please call or e mail them direct)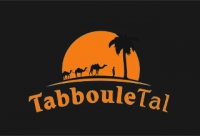 Contact Tabbouleh Tal now...